GLIMPSE. An app for all that matters in your life.
Creating an app for people's life plans and memories.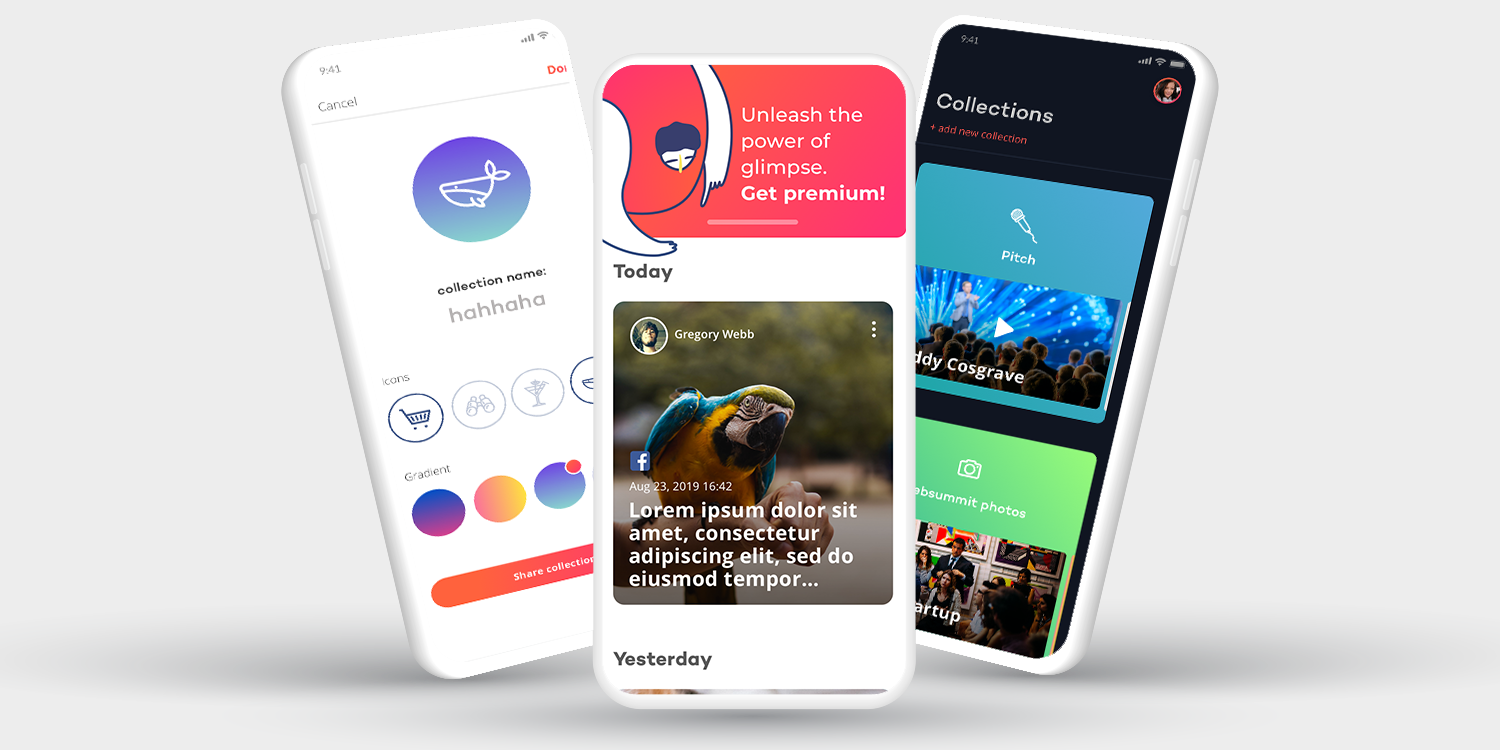 Here, at Hypnotic, we don't just get busy with clients' projects, we also find the time to build products that cater to specific needs we find in our daily lives. Glimpse was about that. It came from not having one single place that could store it all (files, videos, photos, links, etc) while being able to share, chat and build around those memories with others.
Firebase — a Google-backed application development software that helps develop iOS, Android, and Web apps — was our first challenge. Although it has great use in terms of backend infrastructure, it did give us a fair amount of limitations we were, fortunately, able to workaround. One other key goal was to make Glimpse approachable and informal, which made us go for a light, conversational, yet quirky and fun, tone-of-voice. But the trick was to be all that without being silly or looking forced. It's why a copy was also a big part of the project that we wanted to get right and consistent with the feel of the new brand. As we evolved with Glimpse, we ended up finding it was much more complex than what we initially thought out. We went back several times to rework or restructure a feature, keeping in mind to not compromise the app's performance or UX rules (a must with each project we do). Through testing, we were able to pinpoint what features it missed, giving us a chance to make the experience a bit more complete and in tune with what we wanted the app to do for its users.
Glimpse resulted in a friendly, guide-like companion to people's most important plans and memories, not only in the ease of its use but in the way it connects and 'speaks' to its users. The visuals were also important and every illustration connected with the tone of the copy, in the hopes of making the experience not only useful but pleasant to navigate. But the work doesn't stop here. We're happy with what Glimpse is right now, but we're also eager to build from it and add all the bells and whistles we have backlogged.